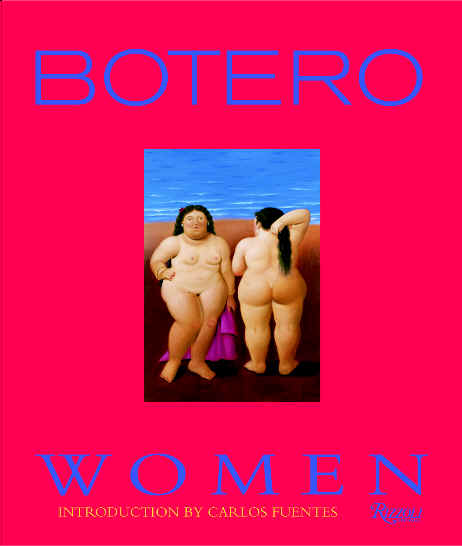 Botero: Women illustrations by Fernando Botero, introduction by Carlos Fuentes, edited by Paola Gribaudo (Rizzoli) Accompanying the work of this incomparable artist is an introduction by one of the most respected Latin American writers of today, Carlos Fuentes. Botero: Women provides a comprehensive look at the opulent, goddess-like women Botero paints, many empowered by his keen sense of humor and irony. It is a must-have for those who adore both women and art - and the perfect illustration of voluptuous beauty.
The luxurious Botero: Women was designed by the artist himself, and is the first to thoroughly explore his lifelong fascination with women. An introduction by Carlos Fuentes details the inspiration Botero draws from his native Colombia, as well as his close study of Western painting.
Since the age of nineteen-the year of his first solo exhibition-Fernando Botero has delighted his audience with the joyfully rotund female figures that populate his canvases. Like any great artist, he was compelled to paint the female form. More than 100 of his greatest works devoted to the theme of women are collected in this oversized, deluxe volume, the design of which was overseen and directed by the artist himself. This book includes fifty unpublished works, numerous archival photographs, and vellum inserts printed with images made by Botero especially for the book.
Botero never works from live models, as he feels it limits his creativity. The women in his work are inspired by the women he has known throughout his life-the vivacious neighborhood characters from his native Colombia . In the early 1950s, he left Colombia to study the paintings of great artists, such as Diego Velázquez and Piero della Francesca, all of which made a lasting impression on the artist.
Carlos Fuentes asks in his illuminating introduction, "Do Botero's women not liberate us, with their rotund, undeniable, all-encompassing presence...?" Fuentes' question is a critical point of departure for Botero: Women, the first volume dedicated solely to Botero's life-long fascination with women. The rotund figures that populate his canvases are not merely depictions of plump women, but manifestations of space - organizers of it, as were the figures of Piero della Francesca and the rushing architectural lines of Ucello. (Paolo Uccello was long thought to be significant primarily for his role in establishing new means of rendering perspective that became a major component of the Renaissance style. The 16th-century biographer Giorgio Vasari said that Uccello was "intoxicated" by perspective.) Fuentes describes Botero's women thus: "What we have are space-women, jealous guardians of entrances and exits. They transcend their own description. They possess the key of the space that leads from the outside to the inside."
Unlike numerous women painted by male artists from antiquity to the present, Botero's women demand love, respect, and acceptance. Ironic and rebellious, they often play upon the ideas of a chaste Mary and fallen Eve. Fuentes tells us that it is the Latin American women who have persisted - "They occupy all the space that is left, the space left by the dead father, the fugitive lover, the murdered son." We cannot wonder, then, why Botero's women make a monumental presence - or how they have become iconic, goddess-like archetypes.
Just as the women Botero depicts are inspired by his native Colombia, they are equally intermixed with his study of work by masters of Western art, such as Peter Paul Rubens, Diego Velazquez, and the Mexican muralist Diego Rivera. The long tradition of painting is evident in his work along with a playful inventiveness. We witness Botero's intelligent humor as he dresses women in the vestments of Marie­Antoinette, Doha Ines, and the infanta in Las meninas.
With a design conceptualized by the artist himself, Botero: Women includes 50 unpublished works and a total of more than 150 paintings. Botero created four new works specially for this project, which are bound into the book on luminous vellum sheets. This deluxe volume is a gorgeous testament to the palpable plentitude, sensual exuberance, and impenetrable mystery of Botero's women - a must-have for those who adore both women and art!